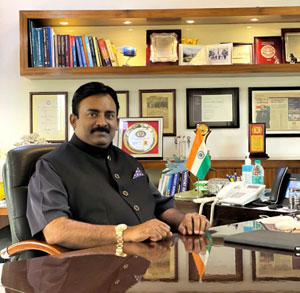 From a modest beginning in 1968, HIET has grown into a fully integrated global Educational Hub. The guiding philosophy of the Institution has been creation of knowledge, providing real time exposure that integrates globally. The objectives of imparting education, combined with creation, dissemination and application of knowledge, are being met in an integrated form, to create a synergetic impact.
Students today are competing in a rapidly changing world. Simply covering the curriculum alone will not be enough. At HIET we equip our students with both a first-rate education and the necessary skill sets to ensure that they stand out in today's world. The institution inculcates human values and professional ethics along with their technical knowledge, which help them to make decisions and create a path, which will be good for them, the society and to the nation.
Today, Hindustan is one of the most sought after Institutions in Tamil Nadu, reputed for its highly qualified and experienced faculty and excellent infrastructural facilities for curricular and extracurricular activities; the institution has maintained an enviable academic excellence right from its inception.
The Institute is surrounded by astonishing resources: fascinating fellow students from all over the world, learned and caring faculty, a magnificent library, superb athletic facilities, and student organizations covering every conceivable interest.
As a result of our Partnership with the Auto major Volkswagen Group and with the Aviation industry, our students are placed in high positions globally These partnerships not only bridge the gap between the current technology and academics, also bring in real time experience to the Students. The strong network of the alumni, its ambassadors, spread all over the globe, holding leading positions in industry and academia are a testimony to the Institute's focus of nurturing individual actualization and the pursuit of excellence.
From the day of its inception, Hindustan nurtured a dream to become a leading Educational Hub with a global Vision. Today the dream has become a reality as the academicians and students alike have gained due recognition worldwide for their academic and professional excellence.
I welcome you to search the never ending arch of amalgamated knowledge, walk the untraded path of seizing opportunities never thought of and be the beacon for the generations to come.
I welcome you to HIET: a pioneer in technical education.
Dr. Anand Jacob Verghese
Chairman – (HGI)